Microsoft Windows XP System Restore Tool!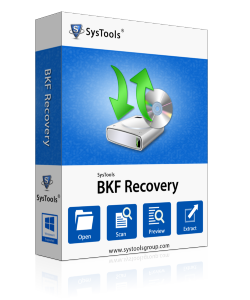 Microsoft NTBackup.exe utility is a popular utility that helps you to create a copy of information and significant database on your hard disk. We can also use NTBackup.exe utility to create backup files on removable disk like: CD, DVD, tape device etc. In the event that you have lost the entire database or it becomes inaccessible due to bugs or some other reasons like: power failure, Trojan attacks, CRC (Cyclic Redundancy Check) errors, etc then you can use backup files to restore BKF database.
BKF Error While Restoring BKF Files from CD
In case, when NTBackup utility fails to restore BKF files from CD or other removable storage device then may it could be the reason of corruption. We have already discussed on many corruption instances but today we are going to acquaint you with CRC (Cyclic Redundancy Check) Error. CRC errors generally find and indicate that the file which is being read by computer is corrupted or not. Basically, it is a check procedure (error detecting code) which is used to detect the accidental changes in files.
A Convenient Way to Extract Corrupt BKF Files
BKF Repair tool is a convenient way to repair and extract corrupted backup files. BKF Repair Tool has been updated by Developers with new technology. Now, Microsoft Windows XP System Restore Tool has become more powerful and advanced to repair and extract BKF files.
Advance Modes of Windows Backup Restore Tool
Quick Scan: It uses one-phase scan only but able to acquire maximum results within short period.
Deep Scan: It uses two-phase scan and definitely recover almost all the files from corrupted backup folders.
Range Based Scan: It is helpful features when users want to recover their backup database range based.