Use Lively Tool to Restore XP Backup Files Accurately!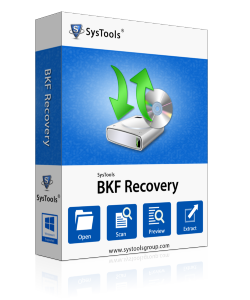 Are you facing any problem to extract files from your recent configured backed up data? To restore XP backup data or other Windows BKF files apparently, you need to use some high-skilled outside solution that is capable enough for instant BKF recovery process. Try this unbeatable XP backup restoration tool which is included with advanced algorithms that made the tool simple, rapid, and prominent. This backup repair program is intended for repairing corrupt XP backup files created using NTBackup, Symentec, and Veritas backup inbuilt facilities.
Download Now Purchase Now How it Works
Restore Backup Files in few steps using XP Backup Restoration Tool
This tool can restore Windows backup data and extract all the folders and files that reached in non-accessible mode. You can see the high ease of utility while it performs restore BKF file operation for recovering your valuable images, video files, documents, XLS sheets, etc. Below the attractive features of the software are listed:
This Windows backup repair software does not force you to repair all the files and data items, the range based selection operation allows you to extract only those data items and documents that are very crucial.
Easy user interface of this rapid tool offers high level of ease to their valuable users whether they are novice or frequent.
Restore XP backup data software of our company is available in nominal rates with frequent actions, so it is used by lots of computer users for instant and accurate backup recovery.
A This BKF repair tool is capable to resolve all the errors like "An inconsistency was encountered on the requested media" encountered in BKF files.
Allows the user to see the content of file after recovery of the selected file before saving it at desired location; it is useful to check data integrity.